Underwater sea walk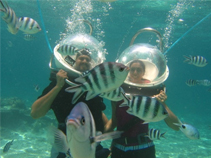 Undersea Walk is a shallow water tourist diving activity completely unrelated to scuba diving. Essentially it is a simple form of helmet diving which requires no underwater skills or training to enjoy.Know More
Andaman Scuba Diving Expedition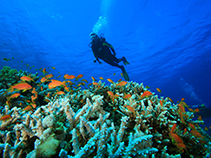 The islands are formed by a sub-ocean mountain range which separates the Bay of Bengal from the Andaman Seas. ... Andaman's also offer other Water Sports like Scuba Diving and Snorkelling, speed boating, Jet-ski etc. Combining diving with some continuing education can improve the skills The islands have tropical climate.
Know More
JET SKY RIDE
Andaman Water Sports Complex or Rajiv Gandhi Water Sports Complex, is the best place for water sports adventure especially in the evenings or on Sundays. Its always a fun to ride a motor boat or participate in banana rides or jet skiing, are popular games here. Go for it!
Know More
Banana Rides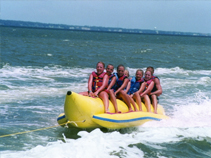 A banana boat (or water sled), is an unpowered, inflatable recreational boat meant to be towed. Different models usually accommodate three to ten riders sitting on a larger, main tube and resting their feet on two laterally flanking tubes which stabilize the boat.
Know More
Snorkeling in the Andaman's
Snorkelling at Elephant Beach - Havelock Island. Snorkel pristine and undamaged reefs, right off white sandy beaches. ... The reefs are in pristine condition and with little exploration you can find corals in the same way they were formed. You can charter a boat, join groups or trek to reach Elephant Beach.
Speed boat rides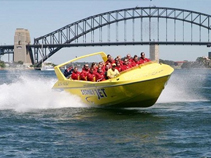 Speedboat Rides in Miami. Enjoy speedboat rides in Miami aboard the Thriller Speedboat - the fastest boat in South Florida. Our only high-speed boat tour is 45 minutes in length and cruises along the Miami Coastline at speeds up to 50mph
Know More